About Dr. Clark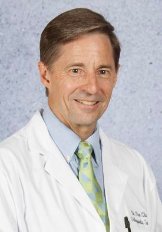 Dr. Clark received the degree of doctor of medicine from the University of Texas Medical Branch in July of 1986. He then completed 5 additional years of orthopedic residency training at the John Sealy Hospital in Galveston, Texas. From August of 1991 through January of 1992 Doctor Clark was in fellowship training with E. Marlowe Goble, MD at the Western Surgery Center in Logan, UT focusing on advanced arthroscopic procedures of the knee and shoulder. After practicing in Utah for eight years, Dr. Clark moved to Northern Indiana for 13 years where he practiced knee and shoulder surgery and consulted with major orthopedic surgical implant manufacturers on the development of surgical implants and instruments. Dr. Clark was a founder of a private orthopedic company that developed an arthroscopic implanted partial knee replacement. Dr. Clark has been responsible for 14 United States patents related to surgical devices and techniques. In 2012 Dr. Clark and his wife moved to Yuma, AZ where he founded the Bone and Joint Center of Yuma, PLLC and has served as its medical director.
Dr. Clark is a surgical scholar and has written or co-written 19 articles published in recognized medical journals and has served on the Editorial Board of the Journal of Arthroscopy and Related Surgery and as an Associate Editor of that journal. In 2004 Dr. Clark was named the "reviewer of the year" by the Journal Arthroscopy. As a world recognized surgeon, Dr. Clark has been invited to deliver lectures on knee and shoulder procedures in the United States, Switzerland, Mexico, Peru, Chile, and Argentina.
Dr. Clark completed his orthopedic specialization in 1994, recognized by the American Board of Orthopedic Surgery with re-certifications in 2004 and 2014. With over 30 years of surgical experience in orthopedic surgery he is one of Yuma's most experienced orthopedic surgeons. Dr. Clark limits his surgical care to disorders of the knee, shoulder, and carpal tunnel surgery. Dr. Clark recommends surgery to his patients only after all reasonable non-surgical treatments have been exhausted and a thorough explanation of the risks and benefits of surgical care have been explained to the patient. Most of Dr. Clark's patients are treated successfully without the need for surgery.
Patients at the Bone and Joint Center of Yuma are treated with experienced and compassionate care. Dr. Clark speaks Spanish fluently and looks forward to assisting those who feel more comfortable communicating in Spanish. The Bone and Joint Center of Yuma participates in most commercial insurance plans as well as Medicare and Medicaid plans. If you have a problem involving pain in your knees, shoulders, or extremities, please give us a call at 928-726-1556.